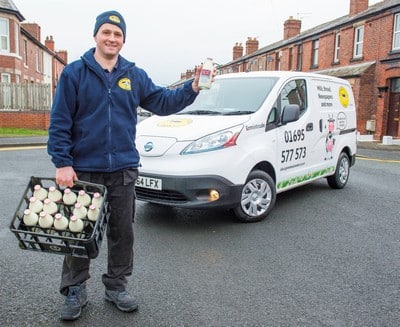 A Lancashire dairy is already saving £900 a month in fuel by replacing four of their diesel delivery vans with the Nissan e-NV200.
The Nissan e-NV200 could be the face of milk floats in the UK especially now that Ormskirk-based Grimshaw Lane Dairy has now taken delivery of the impressive all-electric vans.
The firm is now using them to deliver milk to businesses and homes around Ormskirk and are already planning to replace their remaining two diesel vans with the electric Nissan.
Nissan e-NV200 brings cost savings
Grimshaw's managing director, Andrew Brown, said: "The savings we are seeing in fuel have paid for the van's contract hire and we will also be saving on maintenance costs.
"For what we would be spending on fuel, we have effectively got four new vans."
He said the decision was a 'no-brainer' and he praised the generous spec and driving abilities of the Nissan e-NV200 which were being enjoyed by his drivers.
He added that with deliveries beginning at 1.30am, residential customers were also happier since the deliveries were now being made in near silence.
Performance and handling in the Nissan e-NV200
The Nissan e-NV200's each make 500 deliveries on a route that covers 50 miles a day.
When it came to replacing the diesel vans, the firm was impressed with the spec levels and the fact that the model comes with sliding doors on each side a standard and easy cab access.
The Nissan e-NV200, says Mr Brown, is ideal for his firm's multi-drop delivery operation.
Cut van running costs with a Nissan e-NV200
The delivery drivers have also been impressed by the spec level but more particularly with the ability to defrost their vans from a smart phone app before they begin their shift in the early hours.
The firm was also impressed that the e-NV200 has zero emissions and costs around 2p a mile to run.
In addition, the vans have low maintenance costs and should be around £1,200 cheaper than running a conventional diesel van over a four year period.