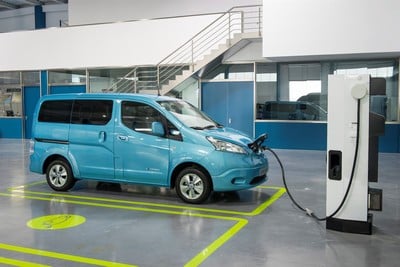 A growing number of firms are taking up the Nissan e-NV200 £2 challenge to see if the all-electric van really can be run on £2 a day – or less.
The latest company to do so is the Ergro Group which has 35 vans at its Dartford HQ to ferry air conditioning engineers to clients around London.
One of those engineers, Charlie Morgan, drove a fully laden Nissan e-NV200 from headquarters to central London where he undertook a full day of servicing calls before returning back.
Run the Nissan e-NV200 on £2 a day
When his vehicle was examined, Charlie had used just £1.20 worth of the van's full £2 charge.
Nissan says this helps to illustrate how business van users and fleet operators can significantly reduce whole life and running costs.
Chris Wollen, Ergro's chairman, said the Nissan e-NV200 had impressed them.
Firm is taken with the Nissan e-NV200
He added: "This is a real no-brainer and the running costs speak for themselves but there's more to the van than just cost savings.
"We take the sustainability of our fleet seriously and we will definitely be taking a closer look at the e-NV200 when we buy vehicles next."
The Nissan e-NV200 is based on the International Van of the Year 2010, the NV200, and utilises the technology that's been proven in the firm's electric car, the Leaf.
Nissan e-NV200 costs 2p per mile to run
The result is that the new Nissan e-NV200 costs around 2p per mile to run.
In addition, for those firms working in central London, they will be exempt from the city's congestion charge.
Nissan says that its van is not only good for low emissions and running costs, users will also find that maintenance costs are around £1,200 lower over four years when compared to a conventional diesel van.
Nissan also points to the fact that with less engine vibration in the cabin, drivers will feel less tired.
The Nissan e-NV200, which costs from £13,393 in panel van form, also has a class leading capacity of 4.2 cubic metres and can carry a payload of 700kg.