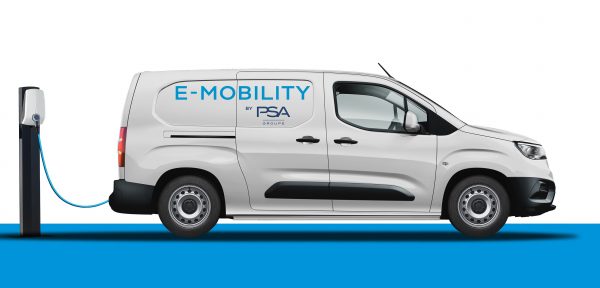 Van maker PSA says that from next year, its entire van line-up will offer all-electric derivatives.
The firm says the move is part of their pledge to offer the owners and businesses the choice from a fully electric portfolio of vans.
This means that the Vauxhall Combo-e, Citroen e-Berlingo and the Peugeot e-Partner will be available to UK van buyers as battery-powered choices.
They will likely be popular choices with the offering zero CO2 emissions – particularly in towns and cities where local authorities are cracking down on petrol- and diesel-powered vans.
New electric vans
The new electric vans will feature the same water-cooled 50kWh battery pack and the 134bhp electric motor that is found in Vauxhall Vivaro-e and the Peugeot e-Expert.
The firm has also confirmed that the new all-electric vans will share the same underpinnings and have similar technology, along with the same powertrain.
While PSA has not given any figures for the all-electric range for the vans, using data from other models using the same powertrain, drivers should expect up to 148 miles.
Also, the battery charging time should be very similar so the battery will be recharged in less than four hours using a fast charger.
Electric-powered vans
The load volumes for the electric-powered vans should also be similar.
That's because the new platform will have the battery pack being placed underneath the van's floor.
And as such, the battery will not intrude into the load bay.
Currently, the new models will offer a long volume of between 3.3 m³ and 3.8 m³.
However, the maximum payload weight for the new vans is likely to be less than the 1,000kg figure of the diesel-powered counterparts because of the weight of the electric running.
PSA group includes Vauxhall, Opel, Citroen and Peugeot
The PSA group includes Vauxhall, Opel, Citroen and Peugeot and the group has been introducing plug-in hybrid or all-electric versions of its new model since 2019.
And in 2020, it revealed that by 2025 it would have a fully electrified portfolio.
So far, their large and medium vans have been offered with all-electric alternatives and now it's the turn for the compact van segment.