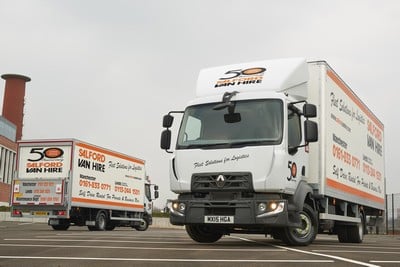 It's one of the UK's best-known vehicle rental firms and now Salford Van Hire has updated its trucks fleet with 35 new Renault trucks.
The firm is celebrating 50 years of successful trading and it is expanding its truck range with the new 44 tonne Renault Range T460 6×2 tractor units that come with sleeper cabs.
In addition, the company is also taking 20 18 tonne Renault Range D18s with tail lifts and box bodies.
But that's not all, Salford Van Hire is also to get another 17 Renault trucks, which are on order, in the shape of the 12 and 18 tonners.
All of the Renault trucks carry the Salford Van Hire livery which mark the firm's 50th anniversary.
Renault trucks will boost the Salford Van Hire fleet
The firm runs a 6,300 strong truck fleet which features DAF, Iveco, Mercedes as well as Renault trucks.
The new 18 tonne Range Ds are replacing current vehicles while the 12 tonne Range Ds add a new offering for customers who need extra weight above 7.5tonnes.
A director of Salford Van hire, Alessandro Bacci, said: "This is a special year as we celebrate our 50th anniversary and we have chosen Renault Trucks because we have had success and reliability with them over the last 12 years.
"We needed new vehicles to keep up with our clients' business needs and update our fleet with flagship models so we turned to Renault."
He added that the new additions are already proving popular with clients, particularly the new style of cab, and they are getting excellent feedback.
Renault trucks have Euro6 compliant engines
The firm, and their clients, are also impressed with the new Renault trucks' Euro6 compliant engines which are more fuel efficient.
With offices in Leeds and Manchester, Salford Van hire is now one of the largest contract hire fleets in the UK with a host of blue chip names among their clients.
Their trailer rental service is a new addition to their offering which now compliments their big fleet offering.