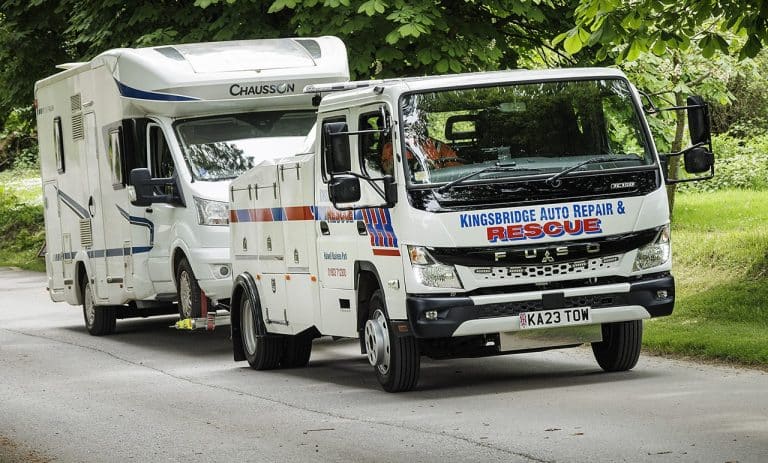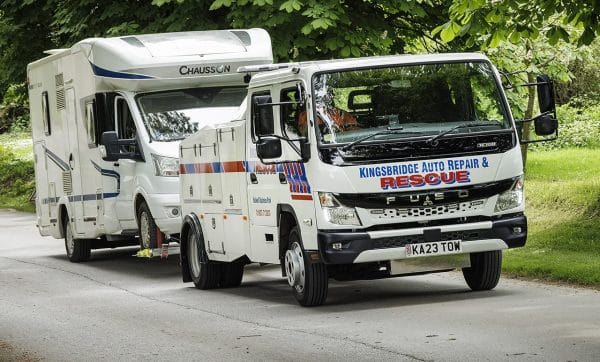 The picturesque roads of Devon have witnessed a surge in camper vans and mobile homes, prompting Kingsbridge Auto Repair and Rescue to secure a powerful solution for tackling these issues.
The answer? A robust 7.5-tonne FUSO Canter breakdown truck, a choice that comes naturally for the contractor.
It is the 7C15D designation which has a 3.0-litre powerplant delivering an impressive 150 hp and torque of 370 Nm.
'We cover a busy area'
The firm's owner Michael Saunders said: "We cover a busy area of South Devon, including Torquay, the South Hams and Dartmoor.
"In summer, especially, the local roads can be extremely busy with holiday traffic – and these days, an increasing number of those vehicles are vans.
"The 7.5-tonne Canter has the capacity to lift a camper, a large SUV or a heavy electric or hybrid vehicle, with ease, and there's room in the cab for all passengers to be seated safely."
He adds: "We have a sub-frame which means we can recover motorbikes, and 'dolly' wheels to enable a full lift of a 4×4, too."
Canter with a factory-built double cab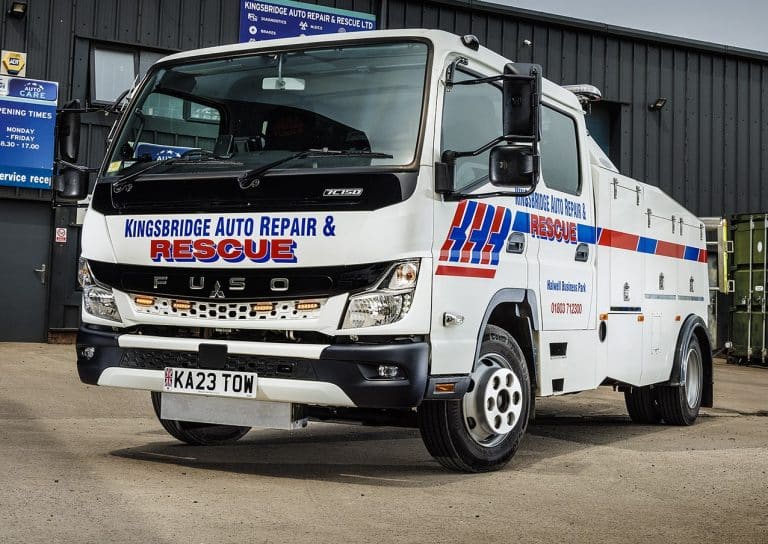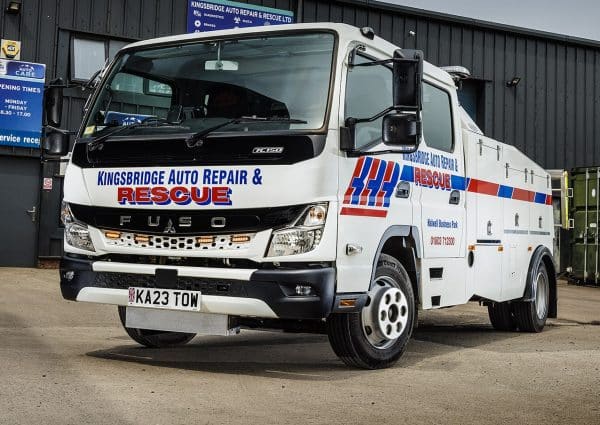 Kingsbridge Auto Repair and Rescue opted for a Canter with a factory-built double cab, to accommodate the driver along with six passengers.
The expertise of bodybuilder J&J Conversions came into play, as they equipped the truck Super Hawk Underlift equipment.
This setup encompasses a 'spectacle' lift boasting a capacity of 2.5 tonnes, complemented by bodywork that has lockers for protective gear and tools.
'Well suited to our requirements'
Mr Saunders said: "It's a bit of a 'Swiss Army Knife', and very well suited to our requirements – big and powerful enough to do the job but with relatively compact exterior dimensions, for a 7.5-tonner, so it's easier to manoeuvre down narrow lanes.
"The first requirement of a breakdown truck is that it should be reliable – you don't want to break down yourself, when you're supposed to be rescuing a stranded motorist."
He adds: "This is our third Canter so we know from experience that they are very robust and well-built."
Having been a fixture in the industry since 2003, the firm offers a range of garage services, bolstered by their breakdown business.
Alongside the new FUSO Canter, the company operates two additional Canters and a recovery truck with a platform body to carry two cars.