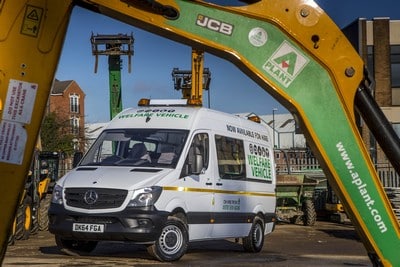 A new service offering from plant and equipment hire specialists A-Plant has seen them specially commission 10 new Mercedes Benz Sprinter vans as welfare vehicles.
The new vans will provide workers in remote areas with welfare and meal break facilities.
In addition, the firm has also ordered another 20 identical units to help meet demand.
Mercedes Benz Sprinter the welfare van of choice
But that's not all – A-Plant has also bought another six Mercedes Benz Sprinter 313 CDIs – three chassis cabs and three panel vans – to help meet demand in its traffic control and management division.
The firm is a big player in the equipment rental world and this is the first time it has offered welfare facility vans to its clients.
The new Mercedes Benz Sprinter vans will be refuges for site operatives for taking their breaks in and enjoy amenities they may be many miles from.
However, the Mercedes Benz Sprinter vans also have a high safety spec as standard and extra kit includes roof-mounted beacons, reflective strips, reversing cameras and extra batteries to ensure power doesn't run out.
Mod cons on the Mercedes Benz Sprinter welfare vans
The Mercedes Benz Sprinter vans come with five seats, a galley with a microwave over and a table. There's also an on-board boiler, electric flush toilet, a heating system and an area for drying wet clothes.
Weight restrictions mean that four people can travel in the rear, with three in the front however the new vans come with an upgrade to the front axle that allows five to be carried in the rear.
Jason McNally is the district sales director for A-Plant and he said the demand for the vans were behind the move to add to their fleet.
He added: "We have confirmed orders for these new vehicles and positive feedback already."
The new Mercedes Benz Sprinter welfare vans are also covered by the manufacturer's complete care service and its Service24h roadside assistance scheme.