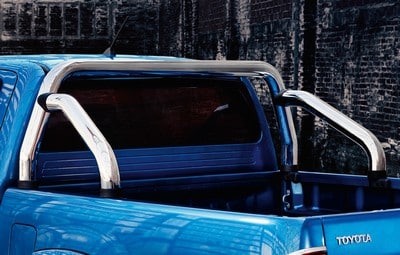 It's one of the most popular pick-ups available in the UK today and there's a new flagship model on offer called the Toyota Hilux Invincible X.
The new model is essentially the Hilux Invincible, with all of its impressive features, but which is offering buyers some new styling options.
Among the new features are the choice of a style pack or a hi-over bar along with 17 inch alloy wheels.
Equipment for the Toyota Hilux Invincible X
The cabin features leather upholstery and there are chrome sidebars, offered with or without steps.
The Toyota Hilux Invincible X is only available as a double cab but there is a 3.0 litre D-4D engine under the bonnet which is coupled to either an automatic transmission or five-speed manual gearbox.
The engine produces 169bhp which enables it to have a 2.8 tonne towing capacity. The pick-up also has permanent four-wheel-drive though it comes with an auto disconnecting differential.
Toyota Hilux Invincible X has 'go anywhere abilities'
The pick-up still has the go anywhere abilities for which it is famous and the new options can be mixed and matched to suit a buyer's needs and wants.
Buyers who opt for the style pack will find that there are aluminium plates, front fog lights, chrome door handles and a silver coloured under-run.
There are also chrome surrounds on the rear lamp clusters and bonnet air intake.
The leather seats come in various two-tone colours along with an embossed 'X' logo. Opt for the full black leather seats and they will be upholstered with the 'Invincible' name.
Performance for the Toyota Hilux Invincible X
There's also a fairly impressive kit list including climate control, sports front seats, cruise control, front fog lights, rear privacy glass and dusk sensing headlights.
The Toyota Hilux Invincible X also comes with vehicle stability control, front, side and curtain airbags as well is a rear view camera and headlamp cleaners.
Owners will also find Bluetooth connectivity and an impressive touchscreen multimedia system on board.
The Toyota Hilux Invincible X is available to order now and costs from £23,842, ex VAT, which is the OTR price for the manual gearbox version. The automatic version costs £24,842, ex VAT.