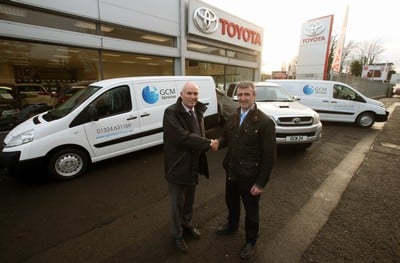 A firm that specialises in deconstructing and demolishing petrochemical and heavy industry sites has invested in the Toyota Proace to help it deliver its award-winning services.
Indeed, GCM Services, which is based in Falkirk, needed a van that worked well in tough environments and was able to deal with anything thrown at them.
This meant that the reliable and robust Toyota Proace is the perfect solution for their transport.
Capability in the Toyota Proace
The firm's managing director, Gordon Marshall, said: is "We needed vehicles which deliver the right reliability and capability and reflected the quality of our business. The Toyota Proace is perfect."
GCM has taken delivery of long wheelbase Toyota Proace models on a three-year renewal plan and they've been finished in the firm's livery.
Now the vehicles will be used for the firm's contracts across the UK.
Workers will be helped by the Toyota Proace's efficient 2.0 litre turbodiesel engine which will help power workers to where the jobs are.
The Proace range consists of two vehicle height and length and payloads of up to 1.2 tonnes can be carried.
Toyota Proace offers space and power
There's also an impressive amount of load space, it measures 7 cubic metres, and access is easy through the sliding side doors. There's also a choice of rear doors or a tailgate, depending on a buyer's needs.
However, once on board, drivers will enjoy a safe and comfortable environment that comes complete with Bluetooth connectivity as well as impressive levels of safety for the driver and passenger.
The Toyota Proace marked the firm's return to the UK's panel van market with buyers impressed with the strong engines and safety features including electronic stability control fitted as standard.
Toyota Proace replaced the Hiace
The Proace replaced the Toyota Hiace which was a very popular van for many years but when it was withdrawn from sale it left only the ever popular Hilux as Toyota's only presence in the light commercial field.
There's an excellent 1.6 litre diesel unit available in the Toyota Proace and the impressive 2.0 litre diesel engine comes with two power outputs of either 128bhp or 163bhp.
The smaller diesel unit should return around 42mpg while the 2.0 litre version will return around 44mpg.
The 1.6 diesel engine will need servicing once year or at 12,000 miles while the 2.0 litre units have a two-year service interval or 20,000 miles.