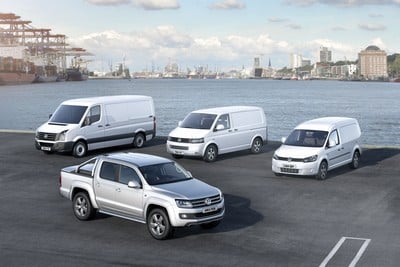 The popularity of VW vans in the UK continues to grow with the company announcing it sold more than 44,000 commercial vehicles in 2014 – a rise of 8.4% on the year before.
The result now means that VW now takes up 12.4% of the UK market and is in the number two position for the LCV sector.
Among the best performers for VW vans was the excellent VW Crafter with sales up by 38% to a record sales figure of 7,100.
VW Amarok racks up big sales leap
It was followed by the firm's Amarok pick-up which saw sales rocket by 20% and 3,000 new buyers.
VW also saw 3,700 camper vans and passenger carriers being registered in the country.
Indeed, the entire line-up of VW vans performed well with the Transporter seeing its sales grow by nearly 12% and VW sold 12,300 new Caddy vans.
VW's director of commercial vehicles, Carl zu Dohna, said: "VW vans are more popular not just because of their comfort and quality but also because of strong residuals and our service support from the dedicated van centre network."
VW vans see sales soar around most of the world
VW vans aren't just doing well in the UK, sales are growing around the world, particularly of the Crafter and T5 vans.
Their worldwide sales have risen by 2% in 2014 though in Western Europe that figure is 6.5% or 292,000 commercial vehicles sold.
So while the UK's market grew, VW vans also sold more vehicles in France, Germany and the Netherlands. There is also a big recovery of sales in Spain last year.
Perhaps the only glitch in the sales figures is that for VW van sales in South America where their market dropped by 47% mainly because they ended production of the famous T2 in Brazil and because of tough economic conditions in many of the continent's countries.