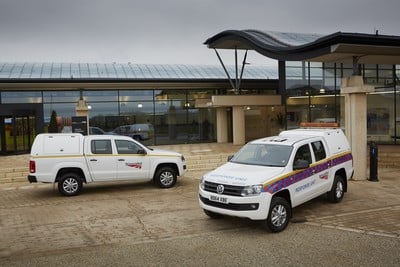 Network Rail has handed VW vans a massive order to help them deliver their daily engineering responsibilities across the country's rail network.
The van maker has signed a deal to deliver more than 300 vans to help the firm maintain railway tracks, bridges, signalling, level crossings, tunnels, viaducts and stations.
This means that they need a fleet of vehicles that will cope with a range of tough environments while being versatile and reliable.
VW vans celebrate big contract win
The result is that the two firms have signed an agreement for 168 VW Transporter 114PS BMT vans, 20 VW Transporter Kombi vans and 124 Amarok pick-up trucks.
Each van has been carefully chosen to operate in a specific business area and has a range of specifications and options designed to make working life easier for drivers.
Network Rail's business support manager, Steve Duffy, said: "With thousands of rail assets and more than 20,000 miles of track to maintain, our teams need the best products and support for the delivery of complex jobs.
High levels of support from VW vans
"Volkswagen's broad range of models and its national fleet support the will deliver a fleet solution to meet the needs of our business now and in the future."
Volkswagen Commercial Vehicle's head of fleet, Chris Black, said: "Our products are versatile and our residual values mean we are competitive and offer outstanding value for money.
"Our fleet support team also means we supply fleet customers with a bespoke service with excellent options."
The choice of business – the VW Transporter
There are many reasons why Network Rail selected VW vans and here at commercialvehicle.com our van review team was impressed with the range and abilities of the vehicles on offer, particularly with the excellent VW Transporter.
Our van review team underlined why this is the company's most popular van and it nearly scored full marks in our review with its car like handling and range of body styles really impressing.