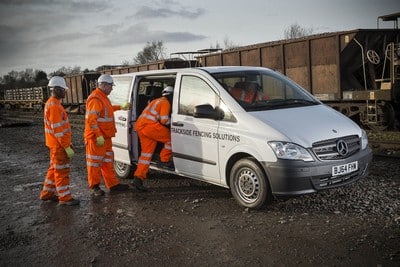 When Rail Safety Solutions (RSS) began looking for the best vans to help protect its employees when out working they decided the best choice would be a new fleet from Mercedes-Benz.
Now the Mercedes-Benz vans are transporting the safety contractors to and from their job sites across the railway network.
The firm delivers track safety solutions for some of the best known names in railway engineering and needs their workforce to arrive safely and get home without harm.
Mercedes-Benz vans are the choice of RSS
Now the Birmingham-based firm has taken on 22 Mercedes-Benz vans which will be maintained by the manufacturer's UK network of franchised outlets.
RSS has opted to buy mainly the long bodied versions of the Mercedes-Benz Vito 113 CDi BlueEfficiency Traveliner which is a nine seat minibus.
There are also 10 Mercedes-Benz Dualiner models which come with a second row of seats.
Among the reasons for the firm's choice is that the Citan and Vito come with a market leading array of passive and active safety systems.
Safety kit in Mercedes-Benz vans
Among these are an electronic stability programme, ABS and brake assist and a system that switches on the hazard warning lights when the van is braking heavily.
However, the firm also had the opportunity of putting the vans through their paces by attending a VanExperience LIVE event which pits the Mercedes products against their competitors.
At these events there are practical demonstrations, with safety as a central theme, which show operators how the vans work in practice.
RSS also analysed its accident record to find out which type of van would be suitable and discovered that most of their accidents did not involve their workforce while they were on the railway lines but when they were on route to their place of work or returning home.
And because a lot of work takes place at night, the firm has fitted a driver awareness warning system which monitors the driver for drowsiness and makes an audible alert should they detect a change in their 'eye blinking pattern'.
Mercedes-Benz vans has reported a big leap in sales and the growing popularity in their offering was underpinned by the review of the Mercedes Citan on commercialvehicle.com.