The order books for the all-electric Fiat E-Ducato van have now been opened.
The impressive van offers a driving range of up to 230 miles and costs from £47,675 ex-VAT.
Fiat Professional says that drivers and business owners will have the versatility of a large van with zero tailpipe emissions.
The world of EV vans
The electric E-Ducato is Fiat's first foray into the world of EV vans.
It's available in two sizes of battery and a 90kW motor.
The 47kWh battery will deliver a range of 146 miles and power of 122hp. The torque available is 280Nm.
The top speed for his battery-powered van is 62mph, and the 0 to 30 mph sprint time is less than 6 seconds.
The charge time is less than 2.5 hours which makes a reasonable prospect for businesses to get their van back working as quickly as possible.
Fiat E-Ducato with the 79kWh battery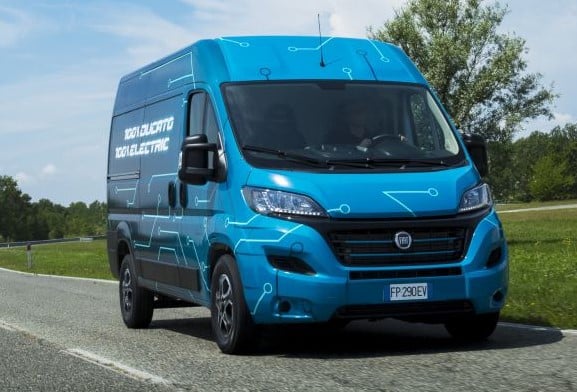 The Fiat E-Ducato with the 79kWh battery uses the same motor and delivers a range of 230 miles.
This battery takes four hours to recharge.
There's also a battery regenerative braking offering, and the van will store energy when driven downhill.
The van has a best-in-class payload of 1,885kg with load space volumes ranging from 10 m³ to 17 m³.
E- Ducato offers three driving modes
Drivers will find that the E- Ducato offers three driving modes with 'Eco' mode delivering the best range by restricting acceleration and deactivating the air-conditioning.
In 'Normal' mode, drivers get the best balance between economy and performance, while 'Power' mode delivers the best performance for full-time load carrying needs.
The trims for the new electric van are the standard and the e-Tecnico and comes as either a chassis cab, a goods van or passenger vehicle.
The van is also available in three sizes and lengths.
Equipment for the E- Ducato
Standard equipment for the E- Ducato includes a 7-inch display with smartphone compatibility and satnav, parking sensors and a rear camera.
There's also rear cross detection, blind spot warning and electrically folding door mirrors.
The standard trim features a 5-inch display with a DAB radio, a full-width bulkhead, automatic climate control, LED lighting in the load bay and a tablet holder.
Safety features include advanced emergency braking, lane departure warning, electronic stability control and traffic sign recognition.
While the price tag for the E-Ducato is quite high, Fiat says that it offers lower running costs – real-world fuel savings of £13,000 can be achieved over 95,000 miles when compared to a diesel-powered Ducato.