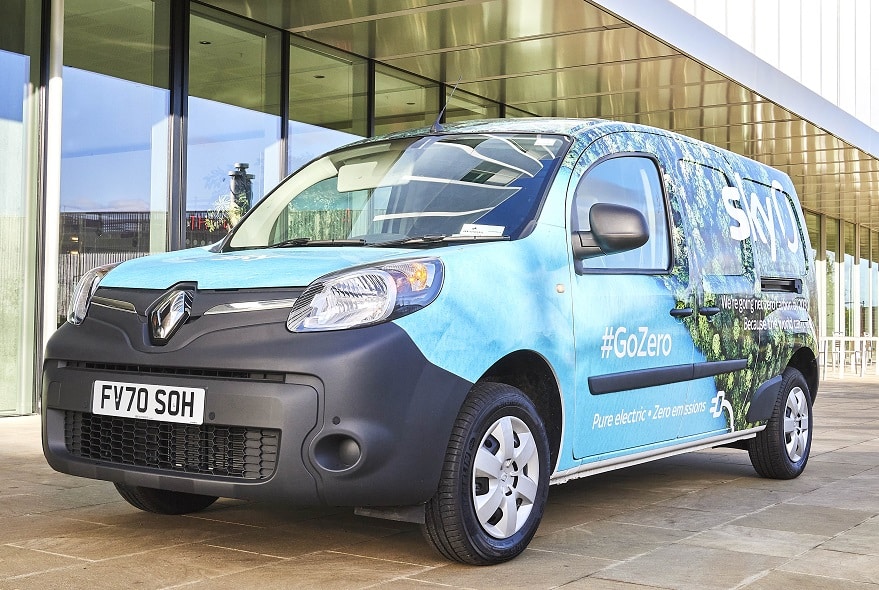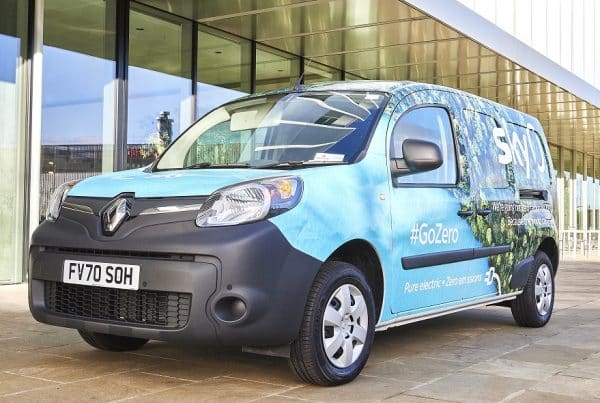 As Sky strives to enjoy a 100% commercial vehicle fleet that is all-electric by 2030, they have just taken delivery of 11 Renault Kangoo Z.E. vans.
The 100% electric Kangoo will help Sky tackle the 34% of its overall company carbon emissions that come from its fleet of vans.
Most of the new vans will be based in West London to support local sites, with some Kangoo Z.E.'s being delivered to several Scottish sites too.
The all-electric range of the Renault Kangoo Z.E. is 143 miles – something that has helped the van win awards.
Drivers gave the Kangoo Z.E. excellent feedback
Also, the van's size is what the firm is looking for – plus drivers gave the Kangoo Z.E. excellent feedback in a trial.
The move to an electric van fleet is part of Sky's bid to replace its diesel vans and understand the possibilities of switching a fleet to all-electric power.
Currently, Sky runs a fleet of more than 4,000 diesel vans and is looking to install more charging points in its bases.
In West London, Sky has one facility with 95 charging stations, and most of these are using renewable energy sources.
Kangoo Z.E. with automatic transmission
Sky is using Kangoo Z.E.'s with automatic transmission, zero tailpipe emissions and comfortable handling.
The firm says that the Kangoo Z.E. is perfectly suited to work within London's congested roads and in low emissions zones.
The new vans also boast of a special livery to help highlight Sky's approach to using an all-electric powertrain.
The addition of the new electric vans to Sky's fleet underpins its commitment to switching to those vehicles that have a low impact on the environment.
Sky has also signed up to various climate change initiatives, including replacing more than 5,000 of its vehicles with zero emissions replacements.
Renault Kangoo Z.E. is available in three body styles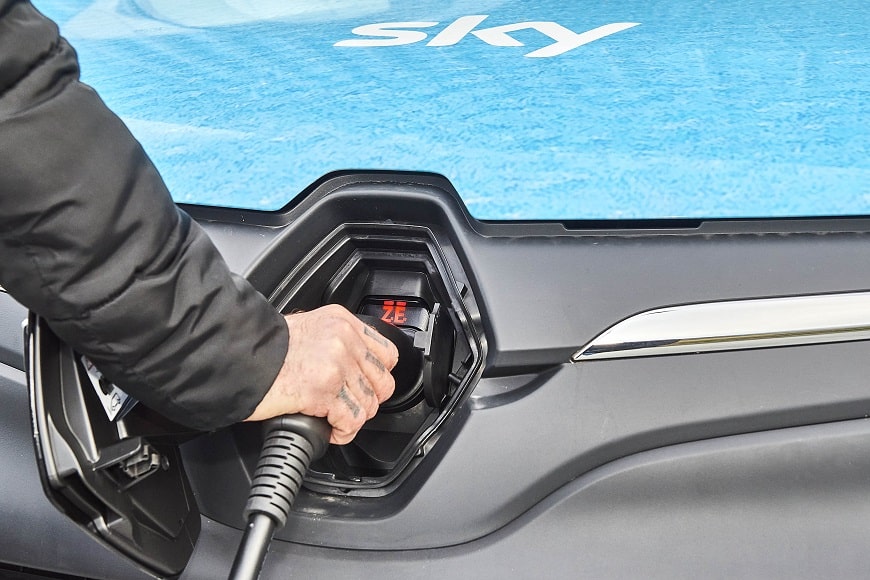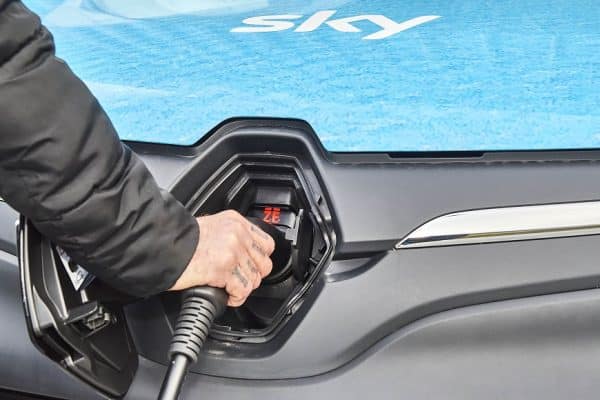 The Renault Kangoo Z.E. is available in three body styles – that's the panel van, crew van and the maxi panel van.
There are two trims, Business and Business+ with standard equipment including electronic stability control, ABS, USB connectivity and electrically-operated windows and door mirrors.
The Business+ specification adds folding door mirrors, parking sensors, metallic paint and one-touch electric windows.
The load area depends on the model but can be up to 4.6 m³.
Recharging the Kangoo Z.E. takes six hours using a standard 7kW wallbox.
Prices for the Z.E.
Prices for the Z.E. start at £19,380, excluding VAT, and that is after the plug-in grant has been added.
The Renault electric van range includes the Master Z.E., and the recently launched Zoe van.